We represent Thordon Bearings Inc. - Canada for Proven Seawater Lubricated Propeller Shaft Bearing Solutions, Stern Roller, Fin Stabilizer
Thordon Bearings, a pioneer in the development of pollution free bearing designs, offers a variety of choices of seawater
lubricated propeller shaft bearing systems for all water conditions.

Rather than promoting the concept that one bearing solution will work in all types of water conditions, Thordon has developed four different bearing grades from which the optimal bearing solution for each specific application and vessel operating profile may be selected.
Thordon Compac

Thordon COMPAC is a high performance water lubricated bearing system primarily for "blue water " operating conditions. Specially formulated with a low coefficient of friction to reduce startup friction and eliminate stick-slip, COMPAC's unique configuration is designed to promote early formation of a hydrodynamic film at lower shaft rpm. The lower

(loaded) portion of the bearing is smooth, while the upper half of the bearing incorporates water grooves for lubrication and cooling. Thordon COMPAC bearings are available in either full form tubes or split configuration depending on the design requirements.
Thordon XL

Our traditional standard propeller shaft bearing grade, Thordon XL is a general purpose bearing offering superior performance compared to other bearings commonly used in propeller shaft applications. XL provides good balance between long wear life, low coefficient of friction , reasonable abrasion resistance and cost effectiveness. Thordon XL is available in a wide range of sizes in both tube and stave configurations.
Thordon SXL

Thordon SXL offers a lower coefficient of friction for reduced break-away torque and smoother operation at lower shaft RPM, increased resistance to third particle abrasive wear and improved wear life compared to XL. Available in a wide range of sizes. SXL can be specified in either tube or stave configurations.
Thordon Composite
| | |
| --- | --- |
| | |
| Thordon Composite bearings are specially formulated to provide superior wear life in very abrasive water conditions. Composite bearings run in combination with hard coated nickel - chrome - boron shaft sleeves routinely outlast rubber propeller shaft bearings by a factor of two or more. This outstanding performance has made Thordon Composite a natural choice for cutter head dredge bearing applications. More than 25 years of experience on hundreds of vessels operating on America's muddy Mississippi River system confirms real-life bearing wear at between 0.25mm - 0.38 mm (0.010" - 0.015") per year. Composite can be specified in either Tube or Stave configurations. | |

Grease-Free Rudder Bearings
Thordon Rudder Bearing

Since 1972 Thordon Bearings has accumulated over 25,000 vessels of rudder experience. An impressive reference list of demanding, yet satisfied, customer is available. Thordon SXL is recognized as the proven choice for value, guaranteed performance and freedom from pollution concerns. In addition to pintle, stock and carrier bearings, Thordon SXL can also be specified grease free in steering gear and linkage applications. A separate detailed brochure on Thordon Rudder Bearing Systems is available.
SXL Rudder Bearing Performance Guarantee
Thordon guarantees SXL rudder bearings will meet Classification Society wear specifications for 15 years in new build projects, or twice the life of the replaced non-Thordon bearing to a maximum of 10 years for repairs, or a new bearing will
be supplied free of charge
*The guarantee is subject to prior approval by Thordon Bearings Inc. & limited to the supply of replacement bearing(s).

Thorplas For Deck Equipment Applications
ThorPlas

Ensuring the smooth, reliable operation of all equipment installed above the waterline is a tall order for a ship's Deck Crew. Operating conditions are tough, and maintenance requirements of the equipment onerous, with the onset of bearing seizure usually imminent should periodic maintenance be delayed or overlooked. Inadequately greased bronze bushings and seawater shaft corrosion may cause bushing seizure. Even sealed, rolling element bearings often fail prematurely as a result of salt water ingress past their simple contact seals or from the intermittent impact loads this equipment is often subjected to.

The cost-effective, maintenance-free solution to solving many of these problems is ThorPlas, Thordon's new self-lubricating, thermoplastic bearing material. Capable of dynamic operating pressures to 31MPa (4,500 psi), ThorPlas can be easily back - fit into virtually all applications
where greased bronze is currently installed. When a non-corroding pin or shaft liner is included as part of the conversion as recommended, ThorPlas does not require greasing to ensure smooth operation. The lubricants formulated throughout the homogenous ThorPlas polymer matrix ensure a low, stable coefficient of friction, even as the bearing wears. In applications where movement is infrequent and there is significant exposure to salt water spray, if space permits, high performance Thorseal lip seals can be considered to prevent the ingress of seawater and possible buildup of salt deposits in the bearing. Wear rates are very low compared to greased bronze ensuring long life and dramatically reduced maintenance costs.

With the elimination of grease, ThorPlas offers improved safety for the crew not having to grease these bushings located in hard to reach locations. Greasefree ThorPlas also means the disappearance of unsightly grease from passenger view as well as the potential of grease stains on clothing.

To facilitate maintenance while under way, ThorPlas can be easily and safely machined using on-board machining facilities and then installed quickly. In-dock, ThorPlas is available from local Thordon distributors to meet the needs of the shipyard.
Typical Thorplas Deck Equipment Maintenance Free Applications
Fairleads
Mooring,Towing and Anchor-Handling Windlasses
Hold Hatch Cover Rollers and Linkages'
Cranes, Hoists and Deck Loading Equipment
Water Tight Doors and Hatches
Pool Covers and Awnings
Lifeboat Davits
Miscellaneous Locations
Capstans
For more information please visit www.thordonbearings.com.

Shaft Seals for Abrasive Water Conditions
The Thordon TG100 River Seal is a new mechanical seal manufactured by Thordon Bearings specifically designed for use in vessels operating in dirty water. A key feature is the emergency seal which is like none other currently available as it allows stand-alone operation. This not only gets you home safely but the seal is not damaged in the process.

The Thordon TG100 Seal is able to accept the required axial and radial shaft movement as well as compensate for alignment issues. Size range covers shaft diameters from 3.375" to 12" (86mm to 305mm). With the highest quality Silicon Carbide faces used, long life should be expected with no visible leakage. There is nothing better than this face combination in abrasive waters.
Manufactured for long wear life and reduced maintenance costs
Elastomeric bellows accept axial/radial shaft movement and compensate for alignment issues
Unique emergency seal allows stand-alone operation to get you back to port without damaging the seal
Wedge "lock" design ensures the rotary face is perfectly square to the shaft
Hydraulically balanced to accommodate various drafts
Unlimited shelf life on elastomers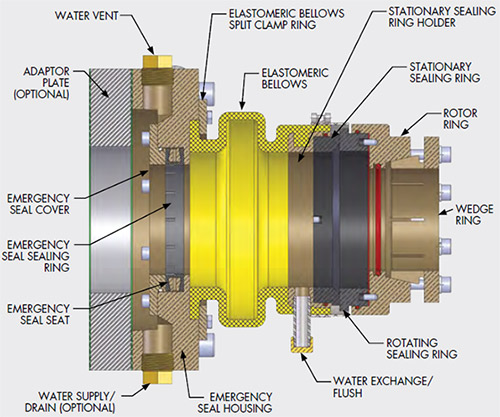 Disclaimer :

Information and photographs in this catalogue are an overview of OEM range products. For more / exact details please refer to original OEM catalogue. Products names, logos, brands and other trademarks featured or referred to within this document are the property of their respective trademark holders.