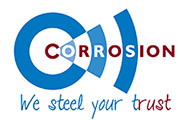 Don't worry about fouling & corrosion

With decades of experience in cathodic (corrosion) protection of steel structures and marine growth prevention ( for box coolers and sea water intakes), we have been enjoying high reputations around the world for our expertise and knowhow. Supplemented by worldwide services and marketing distribution networks, we are a leading international supplier in this field. For our core technological products (ICCP and ICAF/MGPS), they are the ultimate and most economical solutions against corrosion and fouling.

Impressed Current Cathodic Protection Systems (ICCP)


Impressed Current Cathodic Protection (ICCP) system from Corrosion & Water- Control (CWC) , which utilizes the principle of shifting the natural potential of metals, protects your ship durably and effectively against corrosion. This ICCP system provides the ships with all round protection, including the protection for the propulsion and rudder systems.

All the submerged metal parts of the vessel with the damage or ageing of coatings are effectively protected by our ICCP system. A clear indication of your coating's condition will be shown on our Touch Screen Display. All data can be downloaded to an external computer and transferred by internet for checking . System adjustment can also be made via the same procedure by uploading.

Advantages of ICCP Power unit
Touch display operation in all main languages
"Off potential" controlled
Coating condition indicator
Propeller shaft monitoring (+ alarm function)
Automatic system scan

Down-/uploading via Windows hyper-terminal (internet)
Automatic / Manual Mode
History of all data in years
3 points temperature check of the cabinet (+ alarm function)
Connectable to Ship Management System via RS485 and RS232 (Optional)

Impressed Current Anti-Fouling Systems (ICAF) /Marine Growth Prevention System (MGPS)
for Sea water intake / Boxcoolers



| | | |
| --- | --- | --- |
| | | Sea water intake pipe-work / Box coolers are always potential fouling victims. Removing this kind of bio-fouling in the pipe-work systems invariably increases the maintenance costs considerably, and it also affects heat transfer functions for the Box coolers. Ships sailing in coastal water are at the greatest danger. Our Impressed Current Anti-fouling (ICAF) system / MGPS is the best option to prevent this kind of fouling . |

The copper anodes of our ICAF/MGPS system mounted in the sea chest or strainer are connected to the Power Unit. This
Power Unit has a complete set of controlling functions and guarantees the amount of dissolved copper as required into the seawater is minimum. The lifetime of anodes is prolonged to the maximum and the perfect protection is assured under all conditions . In most of the cases , along with the copper anodes, aluminium or soft iron anodes must be installed to protect the pipe-work against corrosion.


Advantages of ICAF / MGPS Power Unit



Touch display operation in all main languages
Automatic correct installation check (+ alarm function)
Remaining lifetime of the anodes (+ alarm function)
Interactive with seawater pumps via several digital

inputs to save anode material
Down-/uploading via windows hyper-terminal (internet)
History of all data in years
Low voltage / short circuit (+ alarm function)
Polarity check for anode identification (+ alarm function)
Connectable to ship management system via RS485 &
RS232 (optional)
Sacrificial Anodes


Cathodic protection can also be achieved by a more traditional way, namely sacrificial anodes. This method is to connect the protected metal structures with a more active metal or alloy. When two metals are electrically connected to each other in an electrolyte (e.g. seawater), the more active metal (anode) supplies current and dissolves (sacrifices) to effectively protect the other metal (structures).

Sacrificial anodes are cast with high efficiency alloys and featured by light weight and high amperage output. They can function economically and efficiently without any maintenance during the operating period to control the corrosion. Furthermore, after installation there are no labor costs involved and no electrical supply is required.

Application



Ships
Harbor installations
Offshore engineering
Underground structures

Tanks
Power plants , refinery and chemical plants
Reinforced concrete structures and buildings' piling foundation
On-/Offshore and Harbor Structures Protection
Seawater / water is a natural electrolyte of high corroding rate. On-/offshore and harbor structures submerged in seawater / water or buried in the ground are at the serious threat of corrosion , which challenges the safe operation. These structures frequently have an expected service life of decades. To survive, the structures must be protected from corrosion with our Impressed Current Cathodic Protection (ICCP) system or sacrificial anodes.

We developed an ICCP system, in which the size and shape of the Ti-MMO anodes are tailor made in a unique way due to the different structures to be protected. As a result , these tailor made anodes are easy to install and meet the design of different structures.
For more information please visit www.corrosion.nl.


Disclaimer :

Information and photographs in this catalogue are an overview of OEM range products. For more / exact details please refer to original OEM catalogue. Products names, logos, brands and other trademarks featured or referred to within this document are the property of their respective trademark holders.